5 Color Changing LED Strip Lights with Remote Control
Color changing LED strip lights, like its name suggests, is able to change its illuminating colors via remote control, smart App control, and more methods.
Color changing lights strip has come into wide use since the year back in 2012, they are rated waterproof for several levels from IP20 to IP78 allowing them to be mounted indoors and outdoors respectively. Additionally, Such low electricity consuming and long lifespan up to 50,000 hours are the color changing light strip, thus they have been the perfect choice to thousands of millions households worldwide.
Speaking of the color illumination of strip lights, they're divided into 2 types that are RGB strip lights and RGBIC strip lights. They both are color changeable. RGB light strip can display only one single color at a time on the line of LED strip lights while RGBIC can display multiple colors simultaneously on one line. RGBIC strip lights are brighter and more colorful than RGB strip lights so they cost more.
Color changing LED strip lights with waterproof grade rated under IP65 are generally used for decorating indoor room ceilings, bedrooms, living room, bars, and other indoor spots where are of very low adjacency to high humidity or direct contact with water source.
In contrast, color changing light strip with waterproof level rated IP65 and higher are most likely outdoors applicable unless they're setup next to water tap or sink in the kitchen.
Those memorable images of your beautiful house illuminated by the strip lights on festive holidays will never be gone, are they? So are your beautiful yards, I bet. On such important occasions like wedding day, Halloween or Christmas, color changing light strip works highly effective for creacting the ambiance and atomosphere in perfect match with festivity addition.
Indoor Installation Of Color Changing LED Strip Lights
Not any hefty work required for installing indoor color changing strip lights. It's because that you don't need to take the harsh weather into consideration. In other words, you don't need to armour the indoor color changing LED light strip to combat raindrops and rainfall and scorching sunheat. Strip lights are with strong or 3M adhesion applied at the back of it, simply follow the steps below in the picture to stick them to a spot you desire.
Outdoor Installation Of Color Changing LED Strip Lights
It's inevitable to expose outdoor LED lights strip under raindrops, rainfall, and burning sunheat. Therefore, with the mere support of the strong adhesive attached to secure a 5m long outdoor strip lights is not strong enough, a set of clips come to play an important role for supporting the strip lights and prolong their lifespan.
For the best waterproof results, outdoor led strip lights should be coated with an extra piece of PVC tube.
The following 5 color changing LED Strip lights with remote control are priced between $60 to $30 in descending order for your budgeted choice.
Stripoo RGBIC LED Strip Lights (50ft-100ft)   Price: $69.98
Stripoo LED Light Strips For Room with Remote  Price: from $44.98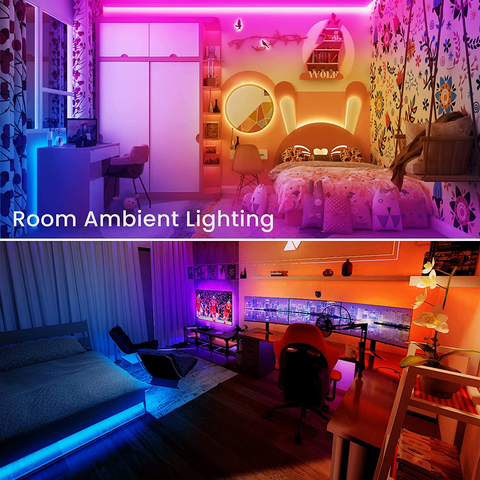 TJOY 130ft Bluetooth LED Strip Lights   Price: $39.99
Novastella 40ft 12M RGB Strip Lights   Price: $34.99
65.6ft RGB LED Strip Lights with Remote  Price: $29.99
---