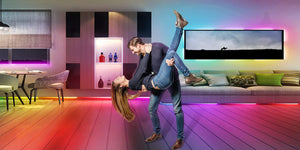 WHO WE ARE
Possessing a cool indoor entertaining life with colorful LED strip lights for ultra-harmony and fun has never been so popular these days.
Stripoo was founded with a vision to color up every home which dreams of wearing rainbow colors for relaxation and festivity.
We do this by partnering up with the top LED lighting manufacturers which boasts over a decade experience of expertise in the LED lighting industry.
OUR MISSION
The mission of Stripoo is to color up millions of households and more with the joyful fancy colors of LED strip lights out of the newest technology and design.
We take it a pride and honor of your thrilling dancing parties, merry fesitive decorations, entertaining and excitement, joy of laughters brought by our amazing colorful strip lights.
Enjoying more unique musical lighting experiences and dynamic dancing scenes with your family, friends, and even pets is our motivation and promise.

Light Up Your Entire Home
Pick either RGB or RGBIC color changing LED strip lights with remote control to add that amazing colorful lighting effect to all your rooms to excite your kids and pets. Take it granted for a roomful of laughter and joy.
Unprecedented Musical Fun
Invite your friend over to your dreamcolor room for a lively music party to feel the amazing beats and dynamic effects of the dancing LED strip lights that synchronized with your favorite songs via smart App.
Party With Friends
On special occasions such as wedding day, graduation day, birthday party and so on, sitting around with a group of friends for relaxing and laughter is no longer a luxury to treasure.
Happier Healthier Kids
Children are inherently excited to color changing. 69% of children surveyed responding positively towards color changing in vividness. Every parents ought to raise their kids more happily and healthily.